Return to blog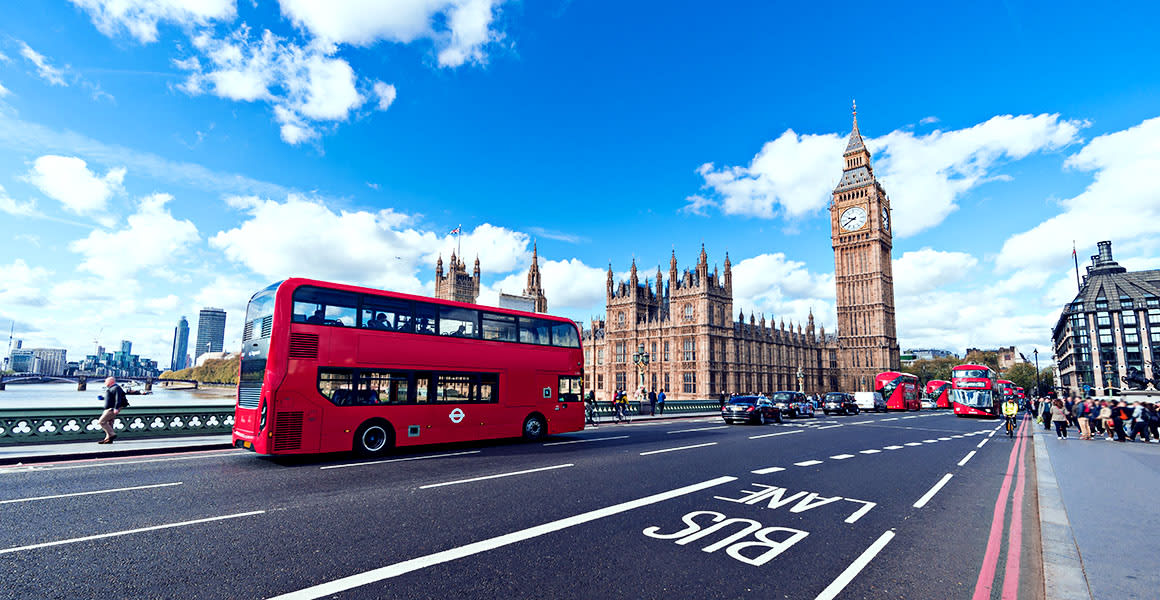 September 26, 2019
In London, TripActions Takes Off
Although TripActions has quietly been building its presence throughout Europe for some time now, we took the opportunity to formally introduce ourselves to the UK community last week. We held our first London event at the creative space inside the h Club in Soho with 70 of our dear customers and partners.
The evening started with craft cocktails, live music, and networking before diving into an enlivened panel moderated by our EMEA VP of Sales Lauren McGuire.
She was joined by Kate Irwin, commercial director at Skift, and Julie Norris, travel manager at FinancialForce, who shared their perspectives on the business travel trends that are transforming the industry. Throughout the conversation, the speakers emphasised the importance of partnering with a smart sophisticated software to make the most of corporate travel management.
Lauren McGuire & @kateirwin from @skift get @TripActions London launch kicked off. Kate shares what to watch 1, well-being 2, environment & 3, control over your trip pic.twitter.com/JRFSGwBzIg

— Caroline Strachan (@carostrachan) September 12, 2019
Following the panel, attendees continued the lively conversation. If you weren't able to attend, here are the five main takeaways from our event:
1. Traveller well-being takes center stage.
Companies are recognising and prioritising their travellers' well-being for the first time, explained Kate. Between keeping pace with an evolving work environment, and taking on the stress of quick business trips, everyone is realising that traveller well-being is important on an individual and corporate level. There is a rise in wellness applications, such as Headspace and Calm, but that's not enough to balance the impact of unexpected flight cancellations.
It is important that companies partner with travel management companies that put travellers first, and take a proactive approach to supporting them, so travellers can do what they're meant to do -- without added complications.
2. Sustainability is the only way forward.
We recently saw Greta Thunberg take the world by storm and wake people up to the very real impact that we have on the environment. The global coverage brought sustainability to the forefront. This struck a chord among attendees who are asking themselves how their organisations can take action to become more environmentally conscious. Kate spoke about Skift's latest coverage on the topic and its new series 'Travel Beyond Plastic' which focuses on the role of plastics in travel — always with a critical eye on how all parties can do better.
3. Business travellers seek greater control over their choices.
Dynamic travel policies are a cornerstone of the travel management strategy today. Business travellers expect more control over their travel experience, and companies who account for that will see higher adoption rates. By providing a wide choice of inventory and options, travellers will be able to select options that suit them while also understanding what falls inside and outside of the policy.
4. The consumerisation of technology has changed corporate travel.
We now live in a world where consumers are accustomed to opening an app and solving any need within 60 seconds. The B2C world is driving this consumerisation of technology and raising the bar as to the level of service that business travellers expect when booking travel. It is critical to provide business travellers with a frictionless and fast booking experience, and 24/7 365 support to proactively address hiccups that come with business travel.
@TripActions London team all set for our launch event at @hclublondon ! #letsgo pic.twitter.com/yA0YglQAaE

— TripActions (@TripActions) September 12, 2019
5. TripActions is fully launched in the UK & increasing European focus
Following the event, the attendees told us how pumped they are about what the increased presence of TripActions in Europe means for the transformation of business travel. We have countless global customers with offices across Europe, but in the last year we've focused on partnering with businesses headquartered in Europe to update and evolve their corporate travel programmes. We have seen huge growth and are looking forward to partnering and building relationships across the market.
With offices in London and Amsterdam among our nine global offices, we're proud of our strong reputation throughout Europe -- and can't wait to continue building our community of leaders and innovators transforming what is possible through travel. TripActions team will be out in force across Europe this fall. Catch our mainstage talks and meet our team at the upcoming BTN Tech Talks, GBTA Munich, Web Summit Lisbon and ACTE Amsterdam.
Return to blog