Return to blog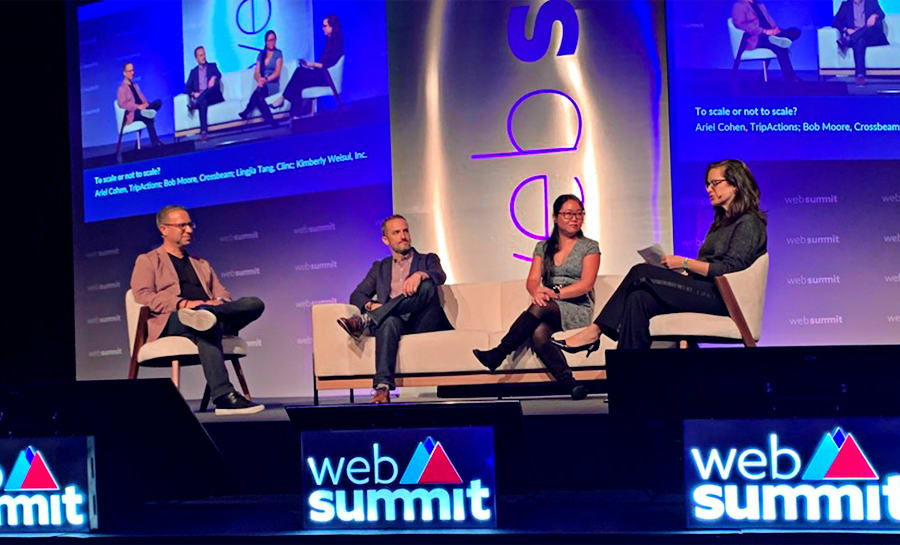 November 18, 2019
Scaling TripActions and a User-First Mentality
This year TripActions joined in conversations with the world's technology and innovation leaders at WebSummit, one of the largest annual tech events. During our time there, we joined panel talks, roundtables and set up shop in a booth to share our product, mission and journey with attendees. The panel 'To Scale or not to Scale?' was held on the Startup University stage where our CEO Ariel Cohen was joined by Bob Moore (CrossBeam), Lingjia Tang (Clinic) and Kimberly Weisul (Inc.), in a discussion focused on successfully scaling businesses.
TripActions is in a stage of hyper-growth. In the past four years, we have grown to 1,000 employees across offices in nine global locations to serve more than 3,000 organisations. There are no plans of slowing down. From the moment of takeoff, TripActions has striven to build a user-first platform and service for business travel, disrupting a space that hasn't seen enough innovation.
From product decisions -- like personalised results with machine learning -- to 24/7 365 support for every trip and every user, we've propelled the entire industry forward. But how did we know when to scale?
The Right Time to Scale
At WebSummit, Ariel explained that there are three core indicators that a company is ready to scale. First, you must identify product market fit, ensuring you have customers who really understand and realise the value proposition of the service you provide. Then you iterate on that product or service to continually repeat and grow this value. Lastly, clarify you have little or no churn from customers - only then are you in a good place to scale.
The pain points we solve for at TripActions are slow booking processes, uncentralised spending, and trouble-shooting when on the move. Our customer's travellers book business trips in less than six minutes with TripActions (whilst saving their company money) and receive proactive 24/7 support with global travel agents from the moment they book to the moment they land home.
It's our responsibility to understand the needs of the customer, from admins to travellers, and identify what we need to deliver to ensure happiness for every user, every time. For us, scaling meant growing an infrastructure that ensures every customer is supported and making sure we could meet them wherever they are.
No matter which department we grow, whether it's Research and Development teams to Sales and Marketing, the end goal is always around creating value for the user. Creating a user-first platform means generating a company that understands the needs of every potential user and this comes from building a strong internal culture.
Building a Culture that Scales
"Having a culture problem is probably the most deadly thing for a startup," Ariel said. "It's really important for us to bring in the right people. We're currently hiring around 100 employees a month, which brings its own challenges regarding culture."
The way we tackle the challenge of building a culture that scales is first and foremost through communicating our values to existing and potential employees and secondly, through interviewing for culture fit to the same regard as qualifying needs.
"We make company values an ongoing conversation at TripActions," explained Ariel. "Staying vocal with our employees keeps these values front of mind and positions them as a map of how to navigate work-life decisions. It's crucial to remind every team of our user-first goals — it's the reason why we're here and reminds us of where we are going."
This is put into practice from the beginning of every employee journey, starting with Elevate, the TripActions new-hire training. Each employee spends two days getting to know the business, culture, and mission we are working towards.
As we continue to scale TripActions, we're excited to see our impact on the travel management space, particularly around traveller satisfaction. Any company whose employees travel for business know the influence it can have on their happiness. To keep business and staff soaring, it's important for companies to build a programme which measures this and helps them better understand the impact of travel on their employees. This will help you evaluate where a travel management policy and platform might help you reach new heights.
Return to blog