Return to blog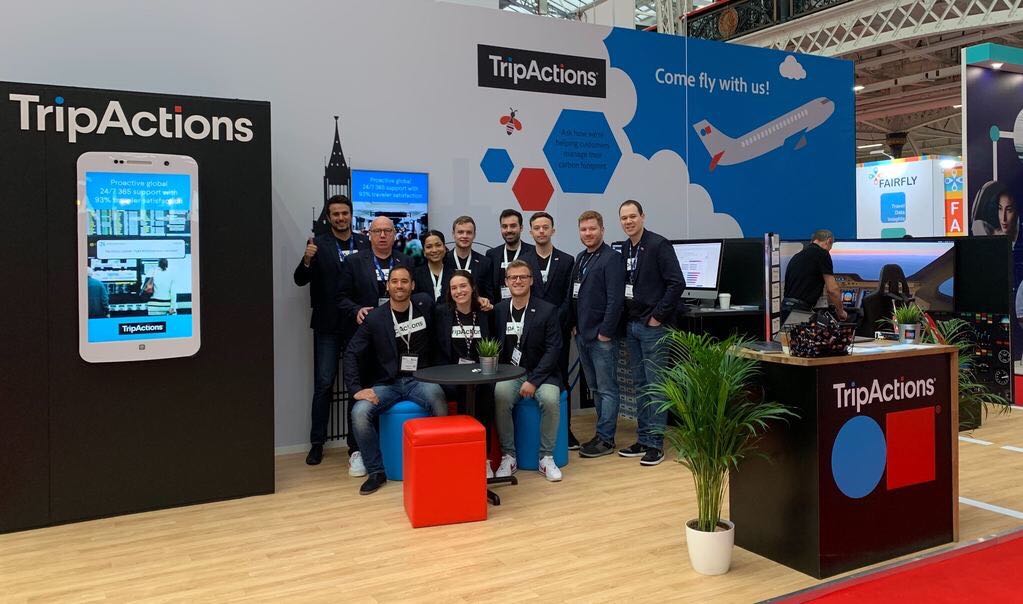 March 18, 2020
Top Trends from the Business Travel Show 2020
TripActions' debut at the Business Travel Show meant a flurry of business travel conversations at both our panels and at our booth, alongside a series of live demos and the occasional spin on a flight simulator. We noticed over the course of the event that some common themes arose, which we predict will continue throughout the year.
For those who couldn't attend the event this year, here's a recap of the interesting trends that surfaced.
Business Travel Continuity & Duty of Care
Whilst duty of care has always been high priority, the coronavirus has led companies to consider what more they can do and develop a more strategic approach to preparedness for the future. Asking questions like, what precautions can be made before something like this arises? How can companies support employees when they are out on the road and the unexpected occurs? How do we ensure business travel continuity?
Mike McGarrity, VP of Global Risk Services at Global Guardian, discussed how current events will shape future safety and security concerns for businesses and international travellers. During his session he stressed the importance of planning and preparing for the unexpected. He explained that this is possible through assessing the risk of each country and using that information to guide policy and process prior to travel, during and afterwards.
Sustainability
Climate change and environmental innovation are hot topics of the foreseeable future considering our 2050 carbon neutral goals. The question of how businesses can help towards this goal is imminent. Already, there are regulations in place for reporting on CO₂ emissions for companies across Europe, which at the moment do not encompass company business travel. With planes accounting for 3% of global carbon emissions, that's likely to change.
There were a number of sessions speaking to the issue of sustainable travel--and they agreed it's important to begin to make changes where possible to reduce the impact of business travel on the planet. In our session with Skift's Kate Irwin, ITM's Sandy Moring and Lufthansa's Andreas Koester, we discussed the changing mindset towards sustainability, carbon offsetting and where technology is advancing to aid in making environmentally sound decisions.
Wellness
Wellness, or well-being, is not to be confused with duty of care, which focuses more on a company's legal obligation to ensure their employees are safe while on the road. Wellness, however, is imperative to employee happiness, health and productivity which is put at risk when travelling too often. For example, travelling regularly can lead to tiredness which can trigger anxiety, or a lack of connection to loved ones, triggering loneliness.
Uber posed the question of whether business travel missed the wellness checklist, whilst Buying Business Travel questioned how to move from awareness to practical improvements and gaining buy-in from senior management. During our panel, How to Build a Successful Travel Programme, panelists raised the importance of creating an open culture and multiple channels for communication to facilitate wellness.
Personalisation
Managing business travel has progressed over the years from a very manual process to an automated one thanks to advancements in technology. The arrival of end-to-end TMCs has transformed the corporate travel process from booking through to managing spend and duty of care. However, there is new functionality arriving in travel platforms that is driving a more delightful experience for the user through AI and machine learning.
Artificial intelligence and machine learning assist in the booking experience by leveraging customer profiles and past booking behavior to predict what customers will book, driving highly personalised and relevant content and search results. This creates a more delightful booking experience, something that we tend to see in consumer-facing models. However, it's these types of experiences that are needed in corporate travel to drive traveller adoption and as a result gain visibility across travel spend and employee happiness.
Most of these topics are already advancing through innovation that's occurring in the travel space already -- whether that's through technology, engineering, process or a combination. As they progress, it'll be interesting to see these trends scale throughout the year and what solutions will come of them in the future.
Return to blog