Return to blog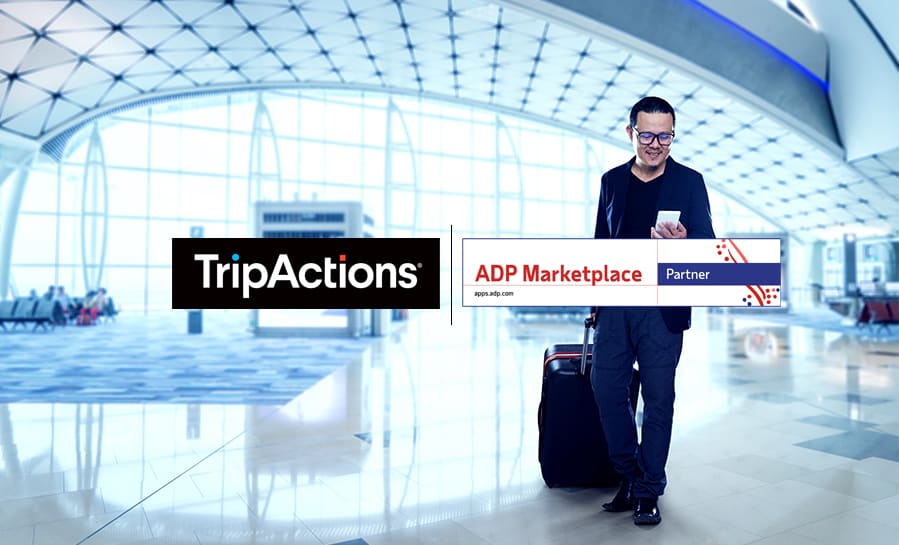 January 21, 2020
Integration with ADP Delivers an Enterprise HR + Travel Solution
As a continuation of our efforts to push the status quo and deliver an innovative experience to business travellers and the dedicated admins, managers, and stakeholders that take care of them, we're pleased to announce a new connection with ADP®, the leader in global human capital management solutions, that empowers employers to optimise the entire hiring process to save time, make the best hires, and cut recruiting costs.
It's no secret that the process of inputting personnel data into corporate travel management systems can be manual, error-prone, and incomplete. This integration gives HR and travel managers more flexibility and empowers them to safely, easily, and securely manage their systems and data. The TripActions connector for ADP Workforce Now® makes it easy for administrators to automatically sync employee data, including transfers, promotions, contact details, or other changes with the TripActions platform. Now companies of all sizes can extend the value of their technology solutions seamlessly across their entire organisation.
"As a leader in workforce solutions, joining ADP's Marketplace as an approved partner is an exciting step to reduce traditionally manual processes in organisations," said Todd Maki, VP of Partnerships at TripActions. "With an increasing importance on synchronisation of technology in the workplace, our integration with ADP Workforce Now delivers a truly unmatched experience for business travel management."
The integration is extremely quick and easy for administrators to set up while onboarding TripActions and can be added at anytime. With a few clicks, employee data within ADP Workforce Now will automatically sync to TripActions, allowing HR professionals and travel leaders to enjoy:
Automated syncing of available employee data
Real-time visibility and control of teams' travel budgets, all in one central system
Clean and accurate financial reporting
Organised company hierarchy for role-based travel approvals
User provisioning that allows hierarchical travel policy controls
We're thrilled to be an approved ADP Marketplace partner, delivering a truly unmatched experience for enterprises. To learn more about how TripActions can help your enterprise seize travel as a strategic lever for growth, check out our listing on the ADP Marketplace.
Return to blog