Return to blog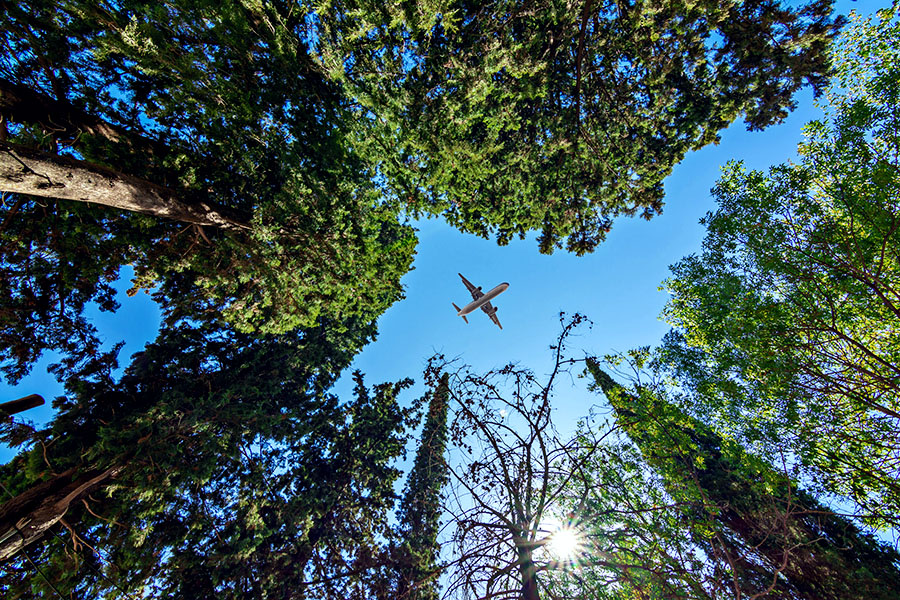 November 19, 2019
TripActions & Global Airlines Commit to Greener Business Travel
We believe that being there in person is powerful. Business travel is a strategic lever for growth and a critical part of building a thriving business -- but we recognize its impact on our planet. This is why we want to empower companies and business travellers with the information they need to become more conscious around the carbon impact of their travel and be an ally in making smart decisions as it relates to work travel and sustainability.
Last month TripActions announced that its corporate travel management solution would enable customers to opt in to monitor their carbon footprint from corporate travel.
A September 2019 survey of more than 1,200 travellers by TripActions found that 80% of travellers are very or somewhat concerned about the impact of business travel on the environment and 61% of travellers think it was important for their employer to offset their business travel. Respondents in Europe ranked minimising environmental impact as the single most important quality in a business travel booking service, even higher than lower prices and having a wide selection of travel options.
"A global travel company by definition exists as part of the global community. And in an age of climate emergency, we realize travel is one of the major contributing factors to carbon emissions –– and we want to help our customers reach carbon neutral operations," Anique Drumright, TripActions VP of Product, explained at TRAVERSE 19.
Using the TripActions dashboard, travel managers, finance, HR, and operations leaders have the opportunity to address growing traveller concerns over their carbon footprint. Customers can now opt in to leverage TripActions' mileage data and reporting to better understand their company's carbon footprint and to help travellers learn about their individual footprint.
But we're not the only ones. Airlines around the world are also taking a stand.


A Global Effort Towards Greener Choices
Alongside TripActions new carbon tracking announced at TRAVERSE 19 in San Francisco, global airlines have made strides in organizing plans to offset their carbon footprints.
Two UK airlines made news for their efforts days after TRAVERSE. British Airways announced that it would start to offset domestic flight emissions in 2020 as its parent company IAG aims to be the first airline group to achieve net-zero carbon flying by 2050. IAG CEO Willie Walsh explained that the company would reach its net-zero target through offsetting and pledged its airlines would reduce emission through sustainable fuels and by replacing older aircraft.
Richard Branson made similar comments, noting the realistic balance that the traveling community must reach for moving forward.
"Realistically, people are not going to stop flying – the most avid of marchers are going to fly. What's critical is that we enable them to fly as environmentally friendly as possible," Branson said in an interview. He hopes that newer planes will help cut Virgin's fuel burn by 25-30%.
Airlines around the world are also starting to put more resources towards carbon offsetting or becoming more innovative in their approach. We're excited to see other global airlines such as United, Lufthansa, Swiss Air, and Qantas making efforts to reduce their carbon footprint as this global movement gains momentum across the aviation industry.
In August, Lufthansa announced a new sustainability platform, dubbed "Compensaid," which allows customers to purchase COs neutral aviation fuels to replace fossil fuels on their flights or support a reforestation project in Nicaragua with the goal of reducing CO2 emissions over the long haul.
Qantas started its carbon offsetting program in 2007, and became the second airline worldwide to declare its intention to cut its net carbon emissions to zero by 2050 through fuel efficiency and the carbon offset schemes.
Just last month, United Airlines made a $40 million commitment to decarbonizing air travel and specifically the development of sustainable aviation fuels.
"We aspire to be the airline leading the revolution to fight climate change, and this new initiative will further empower us to reduce our impact on the environment and fly towards a more sustainable future," United President Scott Kirby said at the time of the announcement.
We plan to continue seeking alignment on environmental initiatives across the business travel community and encourage travellers to compare which airlines are taking strides towards more sustainable business travel.
With offices in London and Amsterdam among its nine global offices, the TripActions team is in touch with European travellers' desires to make environmentally conscious decisions. Get in touch to see how we can help your company and business travellers become more aware, more informed, and more empowered as they harness the power of business travel as a strategic lever for growth.


Return to blog