Return to blog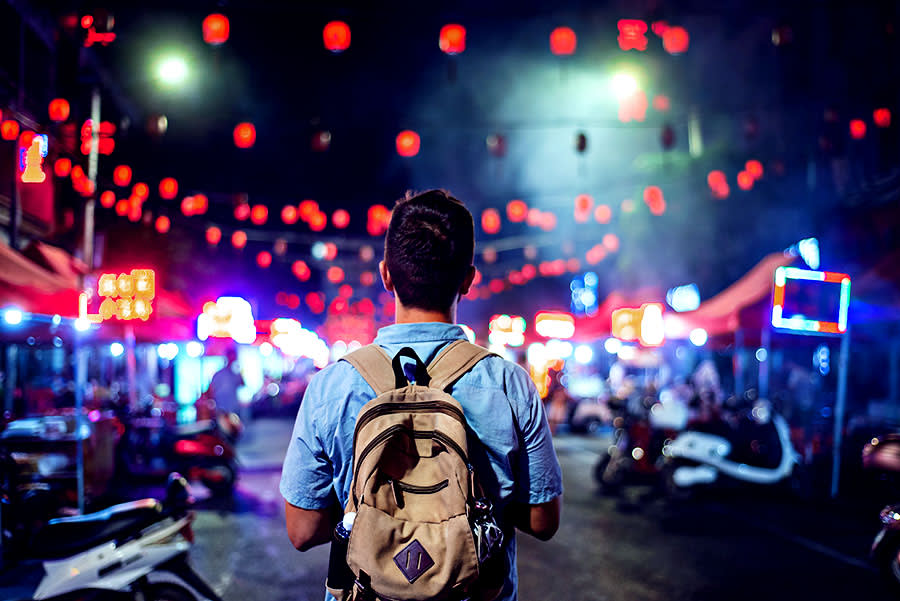 September 27, 2019
TripActions Celebrates World Tourism Day
Stat Spotlight: World Tourism Day by the Numbers
Today -- September 27 -- is World Tourism Day and we're taking a moment to celebrate all of the business travellers who criss-cross the globe for business and add time in their itineraries for leisure.
Tourism is massive, accounting for 10.4 % of global GDP and nearly 10 % of jobs.
Business travel makes up a significant portion of this. Business tourism refers to the millions of people who travel for work to attend meetings, congresses, exhibitions, and business events, as well as incentive travel and corporate hospitality.
Global business travel spend hit $1.4 trillion in 2018, according to the 11th annual GBTA Global BTI study. Business travel is expected to grow steadily between three and six per cent in the next five years — especially in markets looking for frictionless, efficient, mobile booking solutions.
North America accounted for just 25 % of business travel spend, while Asia Pacific accounted for 42 %. The largest individual market for business travel spend is China, valued at $401 billion, followed by the U.S., Germany, Japan, and the U.K. Within the U.S. alone, domestic business travel increased 1.6 percent from 2017 to 464 million person-trips in 2018. This represents 20 % of all domestic travel.
This is only going to grow. Corporate travel managers around the world expect business travel to increase in the coming years. While this might be news to some, the TripActions 2018 State of Business Travel Report found that 90 % of employees believe business travel is an essential component of company growth.
Part of business tourism's growth is also driven by employees' appetite to see the world and mix their professional and personal lives. TripActions' research found that 39 % of Millennial and Gen Z workers would not accept a job that did not include travel. Some reports find that as many as 75 percent of business travellers extend at least one business trip for leisure purposes each year.
How TripActions Travels
Our own TripActions team have built their careers in part by crossing the globe while building businesses and teams. We're also a curious bunch who seek out new cultures and experiences with our flexible travel policy. TripActions actually encourages employees to make the most of their paid time off with a $2,000 annual stipend for personal travel.
We caught up with several members of the TripActions team, spread throughout nine global offices, to hear about their favourite business destinations or how they made the most of each trip by adding on an adventure.
TripActions Customer Success Manager Christine Adamission, is based in New York, but had the best trip of her life when she extended a work trip in Berlin to Croatia. Christine landed in Dubrovnik as the final World Cup match ended and she heard locals celebrating in the Old Town until early the next morning.
"Croatians didn't mind that they technically 'lost.' They were proud to have made it as far as they did. It was a testament to the culture which I continued to see throughout the trip — which included a boat trip around the Elafati islands, a tour of the ancient city walls, and a ferry ride to Lokrum" said Christine.
While business might have been the initial reason to book a flight, Christine extended her trip and found the magic of living in the picturesque city best known as the main filming location for King's Landing in Game of Thrones."
TripActions Senior Marketing Manager Cliona Moulton is based in London and recently shared some tips for the perfect bleisure trip after a week spent running around Picadilly Circle. She took the 1.5-hour train from Paddington Station to Bath and felt as though she travelled to another world. This bleisure trip is easy to fit into any schedule because it is great for a day trip or weekend stay.
"It is a great trip because everything in Bath is walking distance. In a short day trip, travellers can see the famous Pulteney Bridge, glance at the ancient Roman Baths, and enjoy the afternoon tea at the Pump Room. With a full weekend, there is more time to really relax after a week of meetings. Visitors should get to the Thermae Bath Spa at nine AM to make the most of the rooftop swimming pool. Visitors can also go to the No. 1 Royal Crescent, which is a museum that allows guests to step in to 1776 or a Jane Austen novel. Enjoy a rich Greek feast at OPA or a European medley at The Circus Restaurant," recommends Cliona.
TripActions Director of Product Marketing Grant Martin's favourite place to combine work and leisure is New York City where he can meet so many professional and personal friends in a short amount of time — and eat well while doing so. "I can visit the office, visit industry friends, and visit real friends all over the city. Plus, the pizza in New York is way better than it is in Chicago," says Grant.
When asked her favourite place to explore during or after business, TripActions Director of Product Marketing Martina Yonushonis didn't hesitate: Barcelona. If TripActions Product Marketing Manager Blaine Bassett's had two choose his favourite cities to extend a business trip for some play, it'd be London and Atlanta.
TripActions APAC Marketing Manager Colby Foss recently moved to Australia from the U.S. and has found bleisure trips are the best way to explore her new home. She wrote about her adventures in work and play in Sydney and Melbourne on the TripActions blog.
TripActions Head of Digital Marketing Jake Meltzer has had incredible experiences in Singapore for work and fun. "Singapore is a great place to visit and explore on business. The hawker stands (food courts) are legendary for great food at low prices, and many locals are very friendly and will chat. Just bring light clothes and water, because it's always, always hot," recommends Jake.
Why Tourism Matters
The United Nation sets aside a specific day as World Tourism Day to address the massive impact that our movement has on the world. Tourism continues to grow and diversify, becoming one of the most important sectors in the world. Its scale is tremendous.
International tourist arrivals reached nearly 1.3 billion in 2018, growing from 25 million in 1950. Its economic impact measured in tourism revenues grew to $1.260 trillion in 2015 from $2 billion in 1950. Tourism accounts for 10 % of the world's GDP and one in ten jobs globally. The UN World Tourism Organisation expects that tourism will continue to grow at an average of three % annually until 2030.
Just like TripActions, the UNWTO is looking at how advances in technology such as artificial intelligence can further sustainable tourism development. And as more business travellers have more options, we're dedicated to delivering best-in-class corporate travel management solutions so they can spend time making deals and exploring — not selecting flights.
While there are billions of travellers who move around the globe each year, TripActions has its users' backs with best-in-class technology and 24/7 365 — making each one feel well cared for no matter where their itineraries take them. Watch a personalised demo to learn how TripActions makes corporate travel fast and easy today.
Return to blog