Return to blog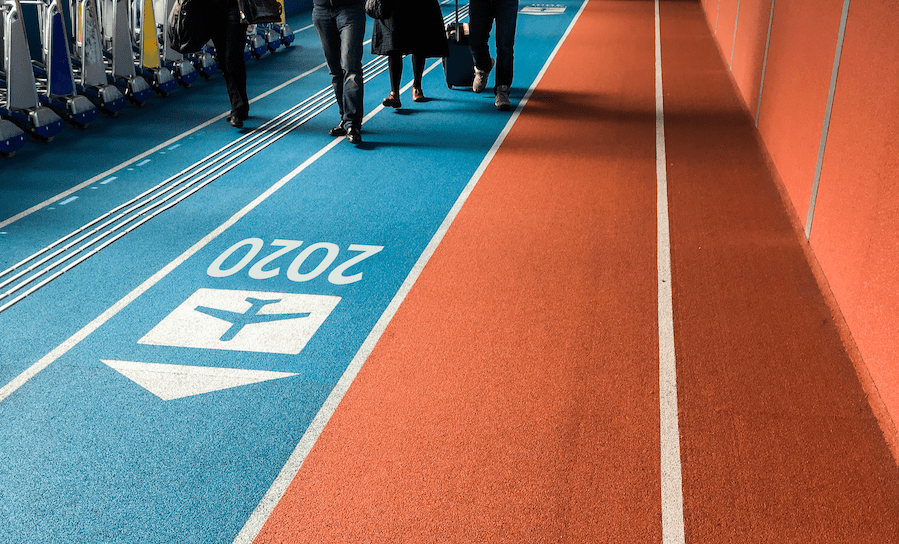 December 12, 2019
Skift Trend Report: What to Expect from Business Travel in 2020
It's been another fast-paced year for business travellers, taking teams and their organisations to new heights so they can accomplish big goals. Technology continues to reshape how business travellers plan and book their trips, while employee habits and expectations related to business travel continue to evolve. But of all the changes impacting the business travel sector perhaps none is more important, or as all-encompassing, than the sector's growing focus on putting business traveller needs first (something we've long been a champion of at TripActions).
TripActions is here to break down Skift's 10 Business Travel Trends for 2020, and share how we anticipate they'll have a big influence on both the experience for the travelling employee and for the finance, operations, and travel leaders overseeing corporate travel programmes. After all, if employees have a great experience travelling for your business, they'll be better position to focus on what they need to accomplish when they get there, rather than the process of getting there. Plus, you'll see higher corporate travel platform adoption, giving you greater spend visibility, control, data, and insights to be able to optimise your programme, save money, and fulfil your duty of care.
The Power of Being There in Person
At its core, business travel is about making in-person connections. Business travel is often a factor in closing deals and negotiating contracts, but travel also plays a role in enabling participants to build rapport with customers and colleagues that wouldn't be possible over the phone or on a video conference.
And there's data to back this up. According to the US Travel Association and Oxford Economics, every $1 spent on face-to-face meetings and events generates an additional $1.60 for the US economy. Given these benefits, it makes sense why more than 90 % of travel managers and business travellers view business travel as "important for driving company growth."
Business Travel Culture Drives Company Success
Business travel was once viewed as purely a cost to be minimised. In 2020 and beyond, business travel will be seen as a strategic company asset that can help boost an organisation's goals — both in terms of growth and fostering a positive company culture.
Building a stronger company-wide culture that values the role business travel plays in company success will be vital for organisations looking to grow and scale. This shift will also require management teams to adapt their existing travel policies to be more user-friendly and flexible, so travellers feel supported and empowered to achieve their best while travelling for work.
Designing Great, End-to-End User Experiences
Travellers will continue to demand more consumer-like experiences from the tools and services they use at work. This will become a greater priority for travel managers and business travel decision makers as they start to feel the pressure to provide a user-friendly experience. After all, travellers are consumers too and enjoy the ease, speed, convenience, and instant gratification of the consumer apps they use every day.
Traveller-first platforms that users love tend to see higher adoption and willing compliance with policy, which means finance leaders and travel managers can avoid unpopular company-wide mandates.
But many parts of today's business travel experience are still disconnected from one another, from planning and booking the trip, to the travel itself and expensing after the fact. How will travel platforms in 2020 stitch together these disparate parts for a frictionless experience?
Taking Care of the Business, the Traveller, and the Planet
It's no secret that there are growing concerns about the impacts of business travel on the traveller and on the environment — how do we address these?
Survey respondents in Europe ranked minimising environmental impact as the #1 quality in a business travel booking service, higher than lower prices and having a wide selection of travel options. We're seeing airlines and other industry players offering carbon offsetting programmes and taking on other sustainability initiatives as travellers become more vocal about their concerns. TripActions recently launched a carbon impact dashboard to offer companies who opt in visibility into their carbon impact at the company and traveller level.
And the health and well-being of travellers are equally important. Travelling employees who are able to eat healthy and exercise, and who feel well rested, nourished, and energised, are better positioned to achieve their business objectives on the road — whether that's establishing and strengthening relationships with prospects, customers or colleagues, closing a big deal or inspiring top talent to join the team. It's critical that organisations start to address both the satisfaction and wellness of their travelling employees, and the focus on traveller health and wellness will only continue to grow in the coming year and beyond.
What business travel trends will have the biggest impact on employee satisfaction in 2020? The latest business travel trend report, available exclusively from TripActions and Skift, predicts ten corporate travel trends that will disrupt and advance the business travel space into 2020 and beyond. Download the report now.
Return to blog