Return to blog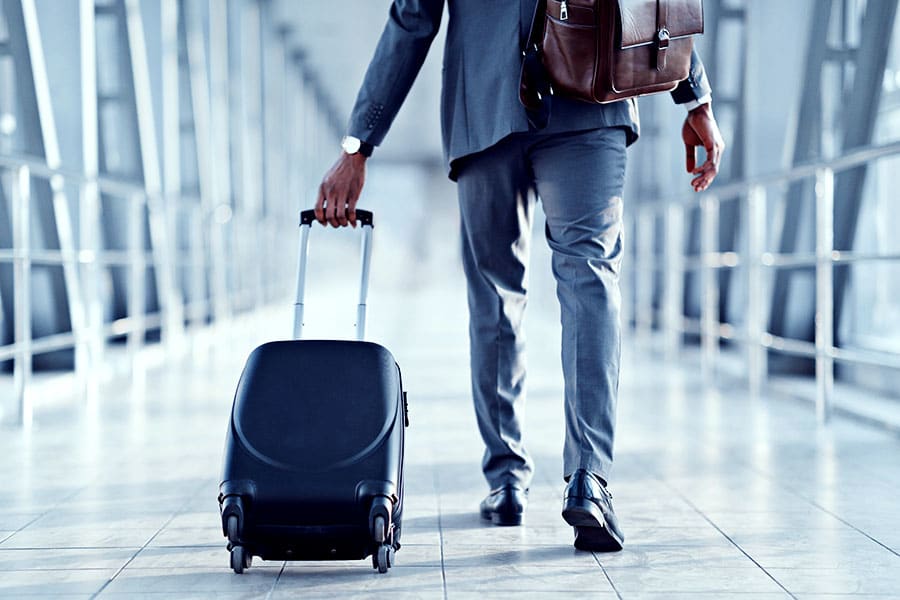 October 30, 2019
What Is the Best Suitcase for Business Travel?
Business travellers know that organisation is key to making frequent flights and hotel stays better.
While it is impossible to plan for flight delays or traffic, proper preparation and packing is what sets all-star road warriors apart from newer business travellers. It is a special component of business travel that individuals actually have significant control over throughout their experience.
And it all starts with the suitcase.

The TripActions team thinks of the suitcase as the 'hardware' in business travel preparation. It is the physical manifestation of the business travellers' home on the go, and the case in which all the very personal items that make each business traveller unique go inside.
As we wrote in the TripActions guide to packing for a business trip, "Pushing a rolling bag that glides is a luxury worth investing in, and business travellers never know when they will have to bring their bags to a client meeting. A person's luggage is a small detail but worth looking sophisticated, or at least organised."
The best suitcase for business travel not only allows the business traveller to easily organise all their belongings — it is also a guaranteed carry-on for flights and looks great for meetings that take place right before departure.
The Rules and Regulations that Control Suitcase Choice
Business travellers around the world agree that choosing a bag small enough to skip check-in and the wait at the baggage carousel is the best option for the standard short business trip.
With a carry-on bag, the business traveller can check in to their flight directly on the TripActions mobile app while still at home. They arrive at the airport, skip the check-in counter, and go directly to security. This can save significant time presenting business travellers who like to cut it close to boarding with a few extra minutes.
If the business traveller chooses the best suitcase for business travel, they'll never have to worry if the bag is too large to carry on.
For U.S. domestic flights, the general rule is that suitcases should be sized 22" x 14" x 9". For international flights, the safest options are suitcases that are no more than 21 inches. International carry-on luggage regulations tend to be slightly smaller.
On European budget airlines in particular, business travellers have to be more cautious as there are several airlines that will charge even for a small carry-on suitcase. The TripActions team discussed the differences between flying in the U.S and U.K. here.
It is a good idea to board as early as possible to ensure that there will be room in the overhead bin for the suitcase near the seat. Having to stow a suitcase far from a passenger's actual seat can lead to a longer wait time and headache upon arrival.
The greatest benefit of purchasing the best suitcase for business travel is that the business traveller can disembark and head directly to their destination without a single pause.


What Does a Suitcase Say about Your Business Travel Style?
Luggage has become a status symbol in recent years. With the advent of rolling wheels and in-case chargers, luggage became a more important part of the travel portfolio. Brands started to differentiate themselves with different messaging.
There's Away. The new cool brand that relies on direct-to-consumer marketing to sell its idea of business travel: smooth, sleek, and in control. Rimowa is a higher-end option with its silver-plated suitcases intended to represent executives more than startup entrepreneurs. Then there are the grandfathers of cool luggage brands - TUMI and Samsonite - which rode the wave of business travel growth and evolved their messaging with each generation.
Besides brand, there are also small differences in different suitcases that the experienced business traveller quickly learns — such as two-wheel versus spinner wheels. We always opt for "spinner luggage" that has four wheels and allows full control of the bag. Business travellers can walk through the airport with their suitcases next to them instead of pulling from behind. Other business travellers will debate interior pockets and whether a suitcase has zippered sections inside to help organise clothing.
Four Best Suitcases of Business Travel
We spoke to business travellers, corporate travel managers that advise them, and our own colleagues about these nuanced decisions. Based on our conversations, these are the five best suitcases for business travel:
Away's The Bigger Carry-on: The most efficient choice for the business traveller looking for a larger carry-on. It comes in 12 clean colours, has well-organised packing sections inside, and include a charging dock. Business travellers can return or exchange for the first 100 days.
Rimowa Original Cabin Spinner Luggage: The higher-end option for the business traveller wants their suitcase to make a statement. The spinner luggage is for incredibly smooth airport transitions.
Delsey Turenne Hardside Spinner Suitcase: Delsey is not as well known as some of the other luggage brands discussed, but it does make one of the most lightweight suitcases of all. For travellers who know that a light suitcase makes for a happier trip can ensure they're getting the best option with Delsey.
Hook & Albert Gen. 2 Garment Weekender Bag: This leather duffel is the perfect companion when a larger roller suitcase is not necessary. It looks neat and is easy to move around with.


Don't Be That Business Traveller
When we think about the best suitcase for business travel, we imagine planes and black town cars and board rooms. But not all business trips are built the same and the sleek carry-on bag that works for one kind of traveller might slow down another.
We believe that the standard roller carry-on is not always the best choice for short trips or if the business traveller will be on the move. Business travellers throughout the U.K. rely on trains and stations often do not have escalators.
In some cases, the best suitcase for a business traveller is a polished duffel bag. This gives the business traveller the freedom to move from meeting to meeting more naturally — and without the suitcase in tow.
We laughed in recognition reading Nathan Thornburgh's description of roller suitcases in Europe on the Roads & Kingdoms' podcast The Trip.
"The sound of rolling luggage on cobblestone, a nightmarish ostinato soundtrack of thunka thunka thunka that is practically the national anthem of half of Western Europe.
"It's been a little over 40 years since a Northwest Airlines pilot named Bob Plath, in a moment of inspiration, jammed wheels on a standing suitcase like peanut butter and chocolate and created the first Rollaboard. In the beginning he just sold them to flight crews, but then passengers to see those crews, as the New York Times put it, gliding through the terminal. And a huge market was born."
There are times when being as inconspicuous as possible pays off.
While we're not in the business of building the best suitcase for business travel, TripActions is here to take care of everything that happens after business travellers close their suitcase and set off on a business trip. By combining machine learning-driven personalisation with unrivalled choice and 24x7 365 global travel agents, TripActions empowers organisations to seize travel as a strategic lever for culture and growth — and gets business travellers where they need to go faster.
Return to blog