What is a Corporate Travel Policy?
A corporate travel policy is the set of rules and parameters set by executives and travel managers to streamline and process business travellers' bookings and travel expenses before, during, and after a business trip.
Business travel is a strategic lever for growth, but only when well managed. The entire process from travel booking to expense reporting can be complicated unless managed with the support of a cloud-based, end-to-end platform that incorporates an online booking tool, travel management company, payments and expense platform, and 24/7/365 travel agent support all in one.
Corporate travel policy for the modern business
A corporate travel policy, implemented with a data-driven, tech-forward travel management solution, offers businesses the capability to build a flexible, dynamic, and effective travel policy. It is possible today to manage travel and expenses and control costs without sacrificing employee experience -- all while moving your enterprise's growth up and to the right.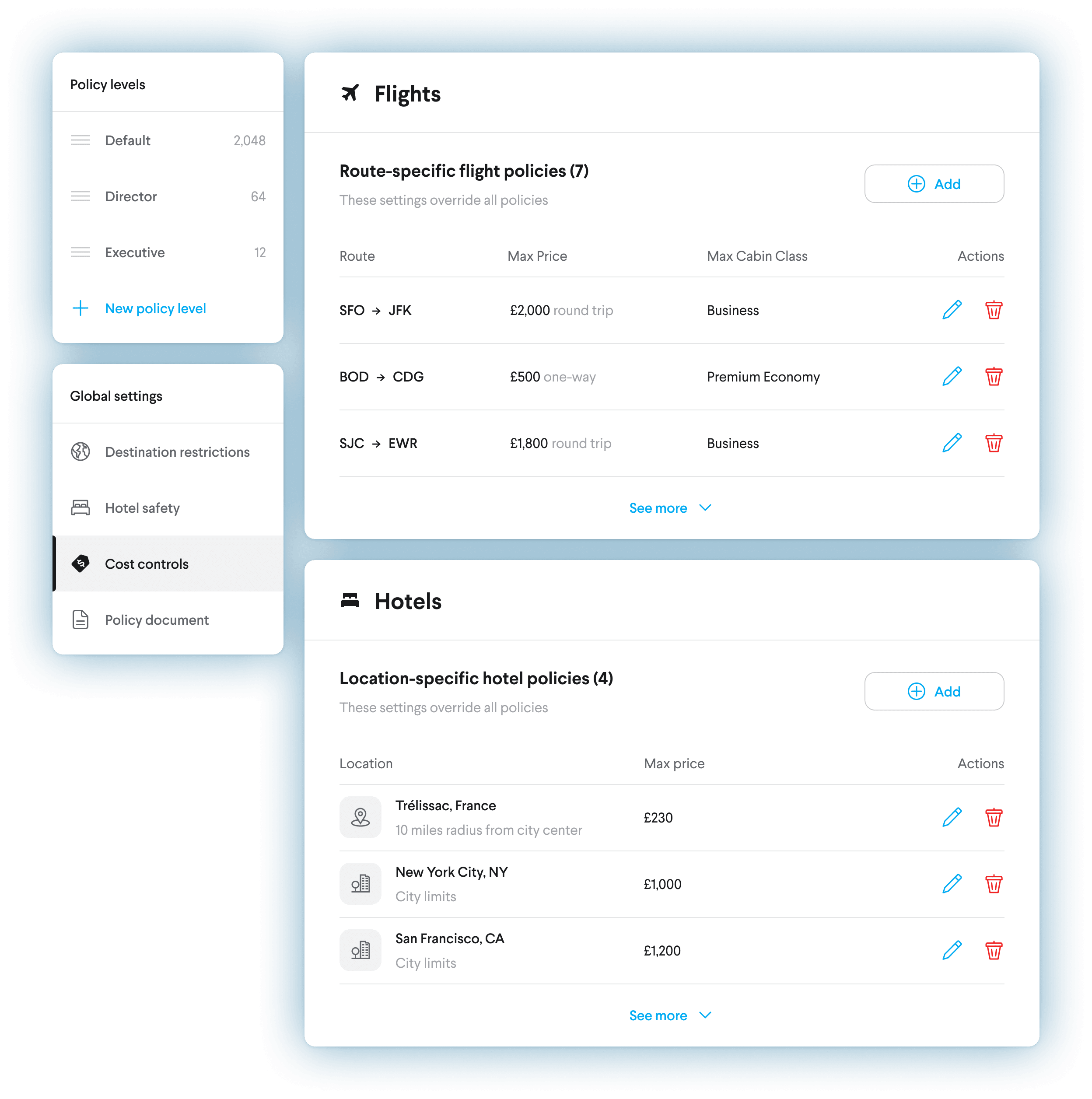 TripActions is your travel policy partner
With TripActions, enterprises and travel managers achieve better results from their travel programme policies with the help of:
Dynamic policy: Adjust spend limits for hotel rooms based on the market's best available prices to suit every business traveller and unexpected travel arrangements
High traveller adoption: An app with high traveller adoption gives you the visibility you need into traveller safety, travel cost savings, and more. TripActions customers see over 90% user adoption
T&E technology: Give your travellers a solution that integrates with the latest and greatest travel booking & expense reporting technology
24/7 364 Travel Agent Support: Let your travellers know they're supported with constant access to professional travel agent support on chat, phone, or email
Best-in-Class Global Inventory: Broad access to most desirable inventory including air travel, hotel rooms, rental cars, ground transportation and business class options at the best prices
Optimised for Safety and Compliance: Avoid employee safety risks, adhere to external regulations & internal policies, and avoid fraudulent expenditures
Designed for Use: A consumer-grade, personalised, mobile-first, chat-enabled, AI-augmented interface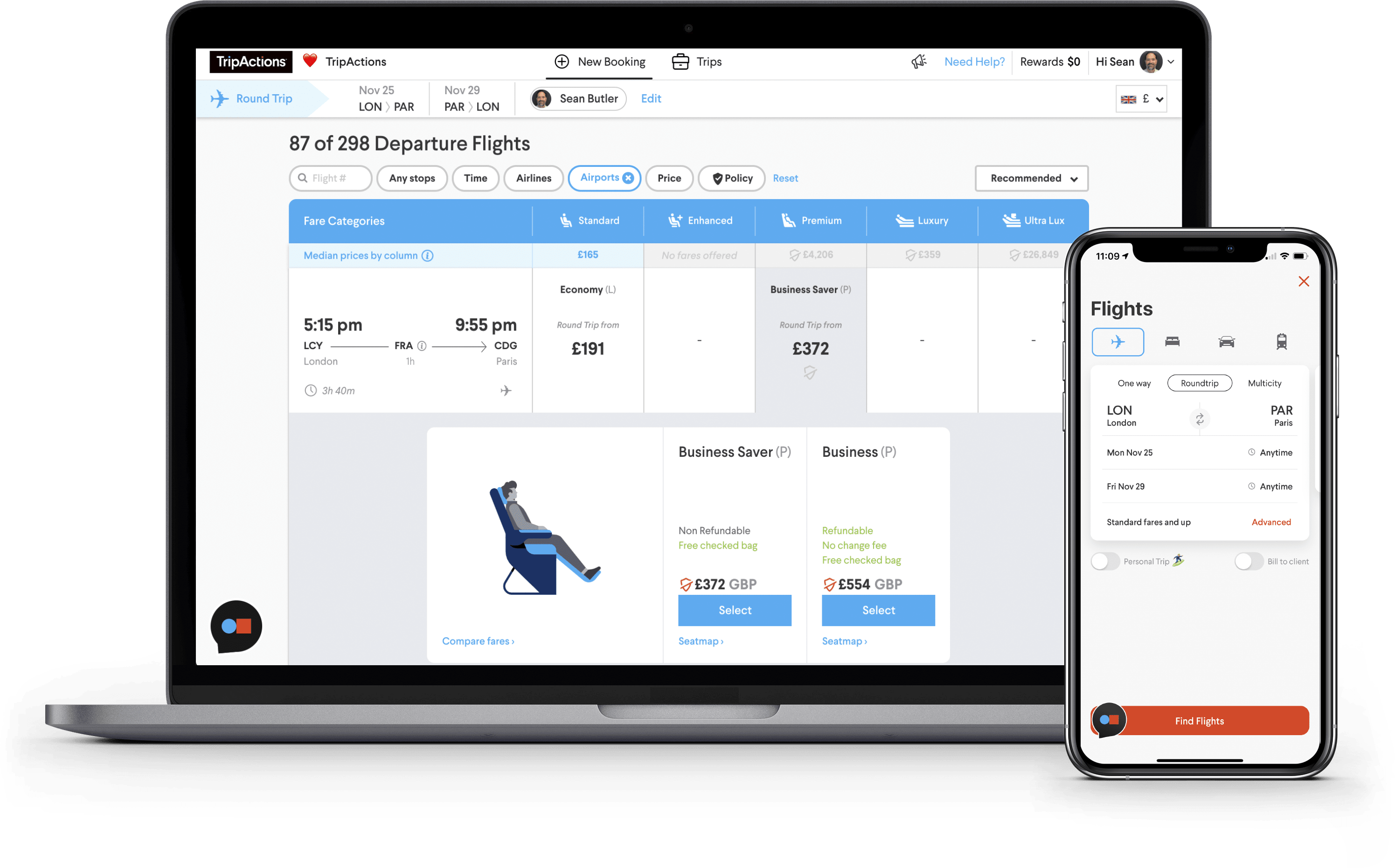 The right tool for the job
TripActions surfaces your company travel policy right in the travel booking experience, automating policy compliance so travellers know immediately what's in or out of policy and what's appropriate spend with a business purpose. If effective travel policies need to be updated quickly as macro situations change, travellers will have full visibility. Approvers and managers can more easily track their team's reimbursable expenses while employees gain access to a more intuitive reimbursement process.
To support TripActions customers, we provide seven customisable policy buckets which support business travel recovery and overall safety and compliance. Unique policy options ensure your company can provide the duty of care which is needed to control costs, provide safety, and offer travel flexibility when needed.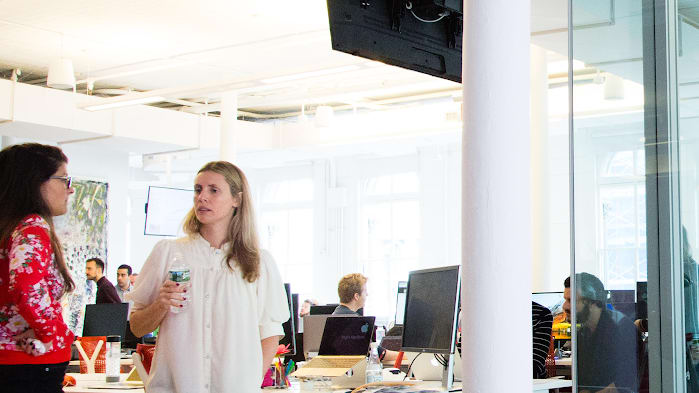 TripActions is a good fit for letgo because it's a modern platform, and because the policy settings allow us to control our employees and the spend that they're making but also give them a user experience that allows them to do their job and travel seamlessly."
- David Wieseneck, Vice President of Finance, letgo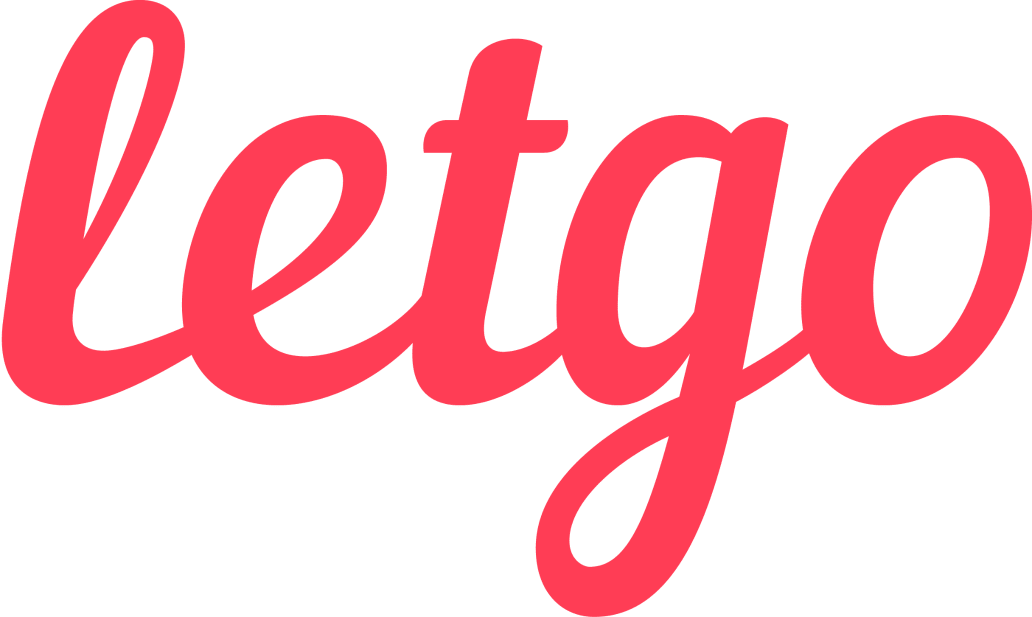 How to Build a Corporate Travel Policy That Fits Your Business