Different times call for different approaches. Finance leaders are considering a range of 2021 budgeting options and strategic travel managers should do the same.
Where do you even begin in such an uncertain environment? In this webinar, we'll lay out the groundwork so you can align with finance, engage stakeholders and deliver a well-developed budget to senior leadership.
Learn how to:
Create a budget that takes into account central programme costs and departmental travel expenses
Use a zero-based budgeting approach where stakeholders share the types of trips and the volume of travel bookings that they are planning
Work with your TMC to utilise the right data and reporting to develop your budget and engage with finance
Sign up to watch the on-demand webinar.
Featured Speaker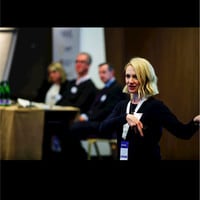 Louise Kilgannon
Consultant
Festive Road
Highly strategic, creative and professional travel geek with a passion for engagement and outsourcing. An irreverent and engaging public speaker with over 15 years' industry experience. Strong buyer background running programs for large global corporations (Procter & Gamble, AstraZeneca, Infor, Philips, Microsoft) with an active involvement across multiple industry boards and associations. A passionate people leader experienced in leading large, diverse teams across multiple geographies.