Date: Tuesday, March 30th Time: 2pm GMT | 3pm CET Duration: 60 minutes
Software like Zoom and Slack has made it possible to stay connected and collaborate during the global pandemic. Yet, for many Road Warriors business travel and in-person meetings are essential for their jobs. From inspecting on-site machinery to building relationships with prospects and customers.
This webinar looks at the Road Warrior's point of view. So that travel managers can take steps to create confidence to travel again.
Join Louise Kilgannon, Festive Road Consultant, as she interviews our panel of Road Warriors. How have they adapted to not travelling? What are their expectations around getting back on the road? What have been the unexpected benefits to spending so much time at home and how easy will these be to give up?
Get ready for a rapid, quick-fire conversation. We'll ask our panel:
What is the biggest challenge of not travelling?
What kind of activities would lead you to want to travel again...or not?
What kind of support would you expect on the road?
Featured Speakers: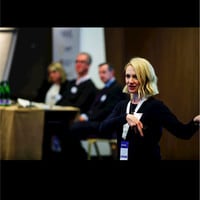 Louise Kilgannon
Travel Consultant, Festive Road