Return to blog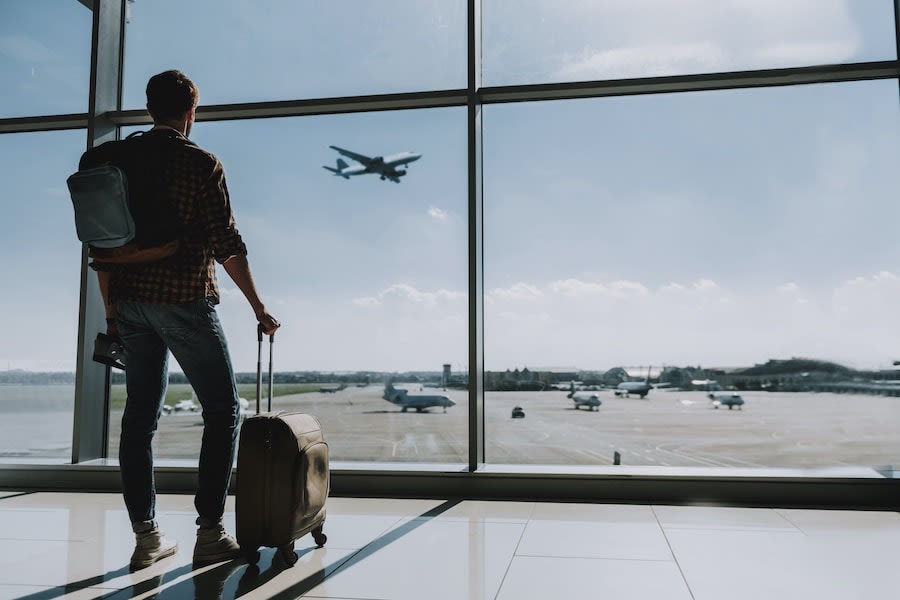 March 26, 2021
Das Reisen Kehrt Zurück - Wie TripActions Dabei Hilft
Nennen Sie es Reisedurst, nennen Sie es "Vaxication", nennen Sie es Pandemie-Erschöpfung: Mit zunehmenden Impfungen und wachsendem Vertrauen in die Wirtschaft beginnt der Nachholbedarf an Reisen überzukochen. Jede Woche kehrt eine neue Welle von Reisenden an den Himmel zurück. Nach Angaben der Transportation Security Agency (TSA), die täglich das reguläre Passagieraufkommen misst, hat das Screening-Volumen fast 70 % des Niveaus von 2019 erreicht - ein Anstieg um das Dreifache gegenüber dem gleichen Zeitpunkt im letzten Jahr. Ein Teil dieser Rückkehr zum Reisen ist auf das natürliche Hoch und Tief der Freizeitreisenden zurückzuführen. Mitten in der Frühjahrsreisezeit also, wenn die Kirschbäume zu blühen beginnen, beginnt auch das Fernweh bei dem einen oder anderen.
Aber es gibt auch eine andere Gruppe von Reisenden, die einfach nur wieder unterwegs sein wollen. Bereits im Sommer 2020 begannen Nomaden, Wochenendausflügler und sogar Road Warriors damit, eine Rückkehr in die Lüfte zu planen, was The Washington Post als Reisedurst betitelte. Unterdrückte Reiselust, Einladungen zu Treffen oder Ticketgutschriften führten dazu, zuvor nicht durchführbare Reisen zu buchen.
Jetzt, wo Impfstoffe auf dem Vormarsch sind, finden viele einen weiteren Grund für eine Buchung. Auf Bloomberg tauchte die neue Wortschöpfung "Vaxications" auf, als Abwechslung zu einem Jahr, in dem man zu Hause eingesperrt war. Lassen Sie sich impfen und buchen Sie eine Reise.
Die Zunahme von Privatreisen - sei es wegen Treffen oder Reiselust - war für das Produktteam von TripActions von größter Bedeutung. Neben unzähligen Aktualisierungen, die sich auf die Sicherheit der Reisenden und die Transparenz des Programms beziehen, hat das Team stark in die Verbesserung der in die Technologie integrierten persönlichen Reiseerfahrung investiert, so dass es für User der Unternehmensplattform einfacher ist, eine Schaltfläche zu aktivieren und eine Freizeitreise mit vielen der gleichen Vorteile wie eine Geschäftsreise zu buchen.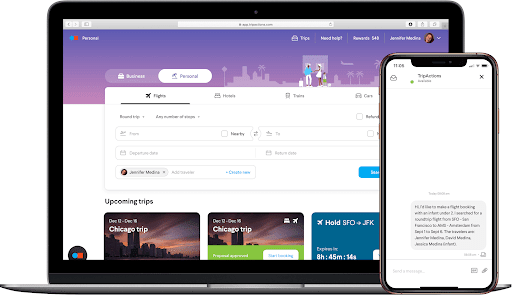 Aber auch der Geschäftsreiseverkehr wird nicht zum Erliegen kommen. Im Januar telefonierte der Mitbegründer von TripActions, Ilan Twig, mit Brian Kelly von The Points Guy, um einige der zunehmenden Trends im Bereich Geschäftsreisen aufzuzeigen. Zu diesem Zeitpunkt verzeichnete TripActions einen Zuwachs von 3 bis 6 % bei den Geschäftsreisebuchungen im Wochenvergleich. Jetzt, wo der Frühling an Fahrt aufnimmt, liegt das durchschnittliche wöchentliche Wachstum bei 15 %.
TripActions hat strategisch in die Technologie investiert, um Managern optimale Richtlinien und Sicherheitsfunktionen zur Verfügung zu stellen, ohne dabei Risiken und Transparenz zu vernachlässigen, da sich die Reise- und Spesenprogramme von Unternehmen wieder öffnen. Und da immer mehr Reise- und Finanzverantwortliche ihre Programme wieder online stellen und sich darüber klar werden, was für das Reisen nach der Pandemie wirklich wichtig ist, wird die einheitliche Plattform von TripActions die beste Lösung für die Rückkehr zum Reisen sein. Oder für die einfache Reiselust. Oder sogar für wohlverdiente Vaxication.
Return to blog